Wow, has it really been almost a month since my last post?? I really have lost all sense of time. Everything is blending together. At least one thing that marks the time is the blooming going on in my garden! More and more flowers are coming up and my irises are going to town.
Bee in the Bachelor's Buttons
The theme over on
Eileen Hull's blog
this month is May Flowers and the Inspiration Team is off to a great start sharing beautiful projects of all sorts featuring flowers. I created some more embroidered teacup pincushions using wool felt flowers cut out with some of Eileen's dies.
I love finding old teacups at thrift stores and garage sales and upcycling them into something new!
I use cotton flannel for the base and then cut the flowers out of wool felt. Buttons and embroidery are added for detail!
I'd also like to mention that Eileen Hull's newest e-book,
Pocket Notebooks with Eileen Hull & Friends
, from Bella Crafts Publishing is now available! Click the photo below to buy yours now to get your creative juices flowing! There are over 50 projects to inspire you, complete with instructions and links to the designer's blog posts or videos. You will be amazed at the versatility of Eileen's
Pocket Notebook Die
and the endless creativity of all the designers' uses for it. I am very honored to have several projects included. =)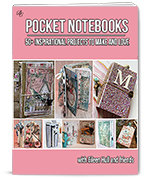 Thanks for stopping by! Check out
Eileen's blog
and if you are not already a member, join the
Facebook Eileen Hull Fan Club
group. It is a warm, supportive group with lots of inspiration and sharing going on. You'll just have to answer a few simple questions when asking to join (to keep out spammers) and then you'll be added. ;-)
Dies:
Eileen Hull Sizzix
Heart & Soul Flower Die - retired
Flower & Leaf Stitchlits - retired
Other:
flannel
wool felt
embroidery floss
buttons
stuffing
hot glue gun
Some links in this post are affiliate links which do not affect the price you pay but allow me to earn a small percentage of a sale. Thanks! (My husband also thanks you!)
If you shop at
Topflight Stamps
, use my coupon code LISAHOEL for 12% off your order.